Main Content Starts Here, tab to start navigating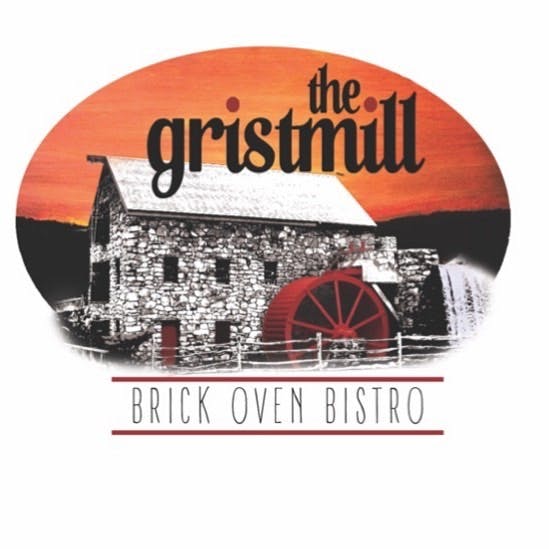 Welcome to The Gristmill Brick Oven Bistro
Welcome to The Gristmill Brick Oven Bistro
Menu
Starters
P.E.I. Mussels
soppressata / plum tomatoes / sweet vermouth / garlic-herb broth
$15
Burrata
roasted delicata squash / pepitas / pomegranate seeds / basil / balsamic glaze
$15
Eggplant Napoleon
fresh mozzarella / roasted peppers / plum tomato / pesto / balsamic glaze
$12
Brick Oven Wings
cherry peppers / garlic-herb butter / romano / charred lemon
$14
Grilled Octopus
chickpeas / cherry tomatoes / pickled reds / capers / dill / evo / crispy potatoes / charred lemon
$17
Warm Savory Ricotta Cheesecake
heirloom tomato salad / pistachio crust / balsamic glaze / toast points
$15
Chicken Meatballs
mushroom marsala sauce
$15
Salads
Escarole
artichoke hearts / soppressata / roasted tomatoes / castelvetrano olives / garlic chips / croutons / romano dressing
$15
Grilled Romaine
cukes / cherry tomatoes / kalamata olives / red onion / pepperoncini / roasted peppers / toasted almonds / feta-dill vinaigrette
$14
Kale
red grapes / spiced cashews / grilled red onion / bacon / goat cheese / creamy balsamic
$15
Between The Dough
Puccia
braised short rib / burrata / hand cut french fries / pizza pocket
$15
The Gristmill Burger
house blend (short rib, sirloin, ribeye) / wild mushrooms / fontina / honey mustard / hand cut fries
$17
Doughs To Remember
Spaghetti Puttanesca Verde
castelvetrano olives / spinach / garlic / basil / scallions / capers / anchovies / calabrian chilis / toasted crumbs
$20
Cavatelli Bolognese
milk braised ground beef, pork & veal / san marzano tomatoes / romano cheese
$22
Fettuccine Carbonara
pork belly / speck / peas / black pepper / egg yolk / romano cheese
$24
Potato Gnocchi
sausage / roasted peppers / zucchini / garlic-herb broth / gorgonzola
$24
Spaghetti Squash
chickpeas / kale / wild mushrooms / delicata squash
$18
Entrees
Roasted Half Chicken
risotto milanese / sautéed spinach / mushroom country gravy / crispy prosciutto
$22
Pan Seared Cod Fillet
P.E.I. mussels / yukon gold potatoes / andouille sausage / kale / shrimp broth
$26
Herb Grilled Veal Chop
smoked gouda & roasted garlic mashed potatoes / sautéed escarole / wild mushroom marsala sauce
$37
Boneless Pork Chops Milanese Style
grilled green apple salsa / crispy potatoes / roasted cauliflower purée
$26
Shrimp and Grits
creole scampi / tomatoes / scallions / jalapeño-cheddar grits / charred lemon
$27
Pan Roasted Black Angus Sirloin
balsamic onions / crispy home fries / haricot verts
$36
Brick Oven Pizza (12" personal pizzas)
all of our pizzas can be made into a calzone - add $4
Margherita
fresh mozzarella / basil / evo / tomato sauce
$12
The Calabrian
soppressata / provolone / red onion / mushrooms / pesto
$16
The Sicilian
prosciutto / shaved parmesan / fresh mozzarella / tomato sauce / arugula
$16
Avellino
crumbled sausage / escarole / hot cherry peppers / ricotta / mozzarella
$16
Messina
fresh burrata mozzarella / roasted peppers / red onion / baby arugula / fig glaze
$17
French Onion
caramelized onions / swiss cheese / gravy
$15
Spinach & Artichoke
creamed spinach / artichoke hearts / provolone / diced tomatoes
$15
Pizza Add Ons
Pesto, Arugula, Escarole, Caramelized Onions, Hot Cherry Peppers, Roasted Peppers, Extra Cheese
$2
Pepperoni, Sausage, Prosciutto, Meatballs
$4
Sides
Smoked Gouda & Roasted Garlic Mashed
$7
Dessert
*All of our desserts are made in house. Our gelato is from Vi Ale Gelateria of Lynbrook.
Cheesecake du Jour
Johnny Cheesecakes´ choice. Be sure to ask!
$11
Banana Chocolate Tiramisu
Layers of fresh banana cream, chocolate ganache and lady fingers dipped in espresso and creme de cacao. Dusted with cocoa powder and topped with fresh whip.
$11
Vanilla Bean Pound Cake
Topped with sweet basil ricotta & fresh strawberries. Served with Vi Ale strawberry gelato.
$12
Olive Oil Cake
Vi Ale pistachio gelato, mixed berries, fresh whip.
$12
Vi Ale Gelato
Ask for flavors!
$4 per scoop
Sunday Brunch
Served from 11-3 every Sunday
NO SUBSTITUTIONS, PLEASE.
Happy Hour
Served at the bar from 5 pm - 7pm
1/2 Price Beer, Wine & Sangria